Another concern was how global negotiations could focus on issues that might bring attention to Australia, which was one of the few nations able to increase its emissions under Kyoto. That included the effective high rate of per person emissions.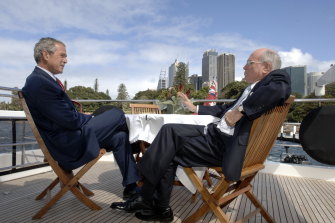 "Approaches such as atmospheric concentrations, which in the past have drawn attention in international negotiations to per capita emissions, would be contrary to Australian and US interests given our relatively high per capita emission levels. We should ensure that the US is aware of this danger," cabinet was told.
At that time, it was envisaged a mandatory global cap-and-trade system would be introduced. The US position on Kyoto opened the door to a voluntary system, but cabinet was told that while there might be some local businesses supportive of such a move, it would not work.
"A voluntary international regime is likely to be strongly rejected by the international community and difficult to defend domestically (although some industry might be supportive)," the papers showed.
In a separate cabinet paper from then industry minister Nick Minchin about the development of a national energy strategy, the rift within the government on greenhouse emissions was brought to the fore.
The Industry Department, arguing Australia would rely on fossil fuels for "the foreseeable future", wanted increased energy efficiency across the nation's electricity network, more take-up of alternative energy sources while also promoting the development of the natural gas sector.
Loading
But comments from the Environment Department, headed by minister Robert Hill, criticised the Industry Department for in effect ignoring Australia's commitments to reduce greenhouse emissions.
It noted there had been just a "cursory" acknowledgement of environmental issues, while the entire scope of the energy strategy planned by Industry was inconsistent with the federal government's own commitments made to states and territories in November 2000.
"We note that the independent inquiry into energy market development and prospects overlooks climate change and other environmental issues," it said.
Loading
"Given that energy market reform has (unwittingly) contributed to rapid and significant emissions growth in what is Australia's single largest emissions source, we request that the terms of reference for this inquiry encompass options for reducing the greenhouse and adverse environmental impacts of the reform process."
Fascinating answers to perplexing questions delivered to your inbox every week. Sign up to get our new Explainer newsletter here.


Read More: Fears US position on climate change would stop global efforts